Shabs Rajasekharan: Judge's View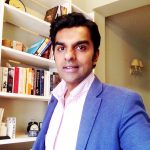 The Smart Ageing Prize is offering €50,000 for products and services that use innovative digital technologies to support older adults to participate fully in social life.
Dr Shabs Rajasekharan is a consultant for Smarter Futures EESV, supporting entrepreneurial teams to create new markets. He is one of the eight judges for the Smart Ageing Prize, run by the AAL Programme and supported by Nesta's Challenge Prize Centre.
With four weeks to go to the deadline, we spoke to Shabs to find out what he will be looking for from applications to the challenge.
What do you think are the causes of social isolation amongst older adults?
Firstly, poor health can lead to social isolation. People can be stigmatised and social circles can become smaller. Dementia is an example of this – people don't understand how to react to your condition.
Social isolation also depends on the place in which you live, whether that's in a city or a rural area. Social opportunities decline or increase depending on where you are – this is true throughout your whole life!
How can digital technologies best respond to these challenges?
Technology has to be extremely personalised, because people are different in terms of their situation and their personalities. It also has to be linked to the environment that people are in to be successful.
It needs to be combined with other interventions, particularly physical interventions. Technology can't solve the problem alone; technology trying to solve everything is a big issue.
I also prefer technological solutions that work for people of all ages and backgrounds. For example, I'm not so keen on taking a business model that works for another segment of the population and then remodelling it and saying 'it's for older people'. It can be stigmatising to say that you have to be older to use it. A lot of the best solutions are for all ages.
What does innovation look like in this space?
I really believe in systemic innovation, so if you are going to innovate in this space, you have to understand what else is going on in the system and influencing the environment in which your solution operates.
For instance, it's important to think about what awareness raising would need to be done, what policy needs to be changed, what transport services the area needs to have, and so on, for your solution to work.
It's not just about the single product or service – it's about the bigger picture.
Sometimes that might not be reflected in your core business model but understanding the bigger picture helps you bring in the right partners to bolster your innovation. Practically this translates to the right people getting to know your product and getting to buy it, so then it can succeed.
What are you looking for in the applications to the Smart Ageing Prize?
I am looking for applications that use iterative methods. Combining design thinking with lean startup methodology could be really valuable. I expect to see things that think about the consumer as well as the system.
I'd like to see something that's been tried and tested but has not even been made yet. When you ask the right questions you find the right problem and people will be willing to buy whatever it is that you're selling before it's even been made yet. I'd love to see something with real interest behind it.
Applications for the Smart Ageing Prize are open now, until 30 March 2018. Submit your application and find out more about the challenge prize here.
Tags: AAL, AAL Programme, ageing, Ageing Well, older adults, Smart Ageing Prize, social isolation