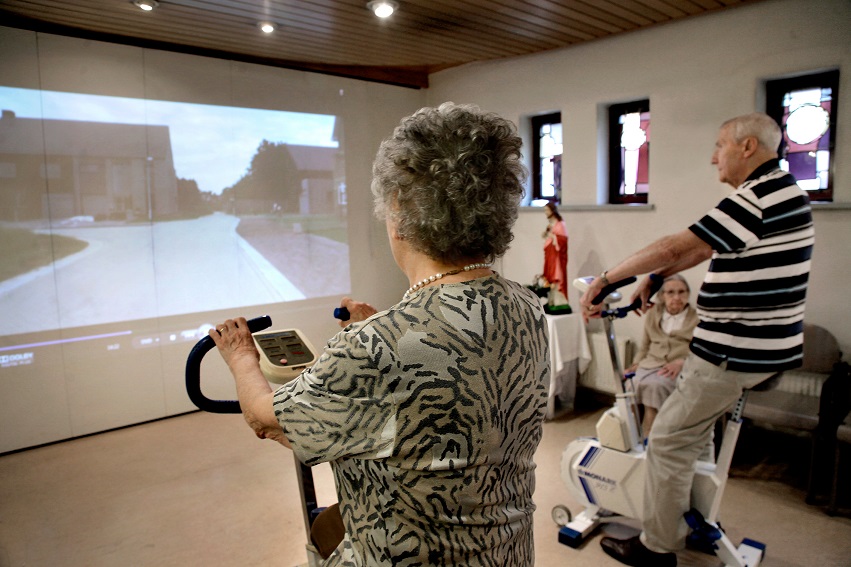 Hearing from our Semi Finalists: Walk it!, Sync VR, Life Manager, Refresh by How Do I?
With the semi finalists due to submit their business plans this week, we got in touch with them to learn more about their development, and how the Smart Ageing Prize has impacted on their work.
In a few short weeks, the judging panel will be meeting to select five finalists to attend the AAL Forum in Bilbao. The finalists will all pitch their products on stage at the AAL Forum 2018, and prizes of €35,000, €10,000 and €5,000 will be awarded.
Read more from four of our Semi Finalists below.
What are the typical obstacles or barriers that you find when developing solutions for older adults?
A barrier is to design based on assumptions you make, whether they are very well-intended or not, it is hard to imagine an older adult's perspective. By setting older adults apart as very different people compared to ourselves, we may come up with health solutions we won't be happy with ourselves. However, as a user it may be difficult to ask for something that is not there yet, that's also difficult to imagine. That's why a challenge (barrier) for designers is to facilitate this process of creative thinking towards new innovations. – Walk it!
A core problem is that the most vulnerable elderly people cannot pay for the services that would help them best. In other words, finding a paying customer is a recurring challenge. Obviously, it's also a challenge to have no elderly users around when developing ideas and products. However, this is a question of setting up partnerships which we have succeeded in. – Sync VR
We have not have many barriers, because we developed our product together with the elder people, in cooperation with caregivers and relatives. There for our product was close to the demands from the usergroups when we started to entry the markets. What we found out later on, is that it is more difficult to implement the solution. Only If the elder people and their relatives see the values, a successful us will be given. – Life Manager
As sometimes happens, one of the barriers we identified when designing solutions for older adults is also a strength. When we were in the design phase that led to Refresh, we found it difficult to design a single product or service for older adults as they are, as a group, incredibly diverse and challenging to design for collectively. Each person we co-create with has their own individual needs, interests, strengths, difficulties, desires and cultural background. We learn from each and every person who joins us in our research. – Refresh by How Do I?
How important is the participation at the Smart Ageing Prize in view of the commercialization of your solution?
The Smart Ageing Prize is a way to in-depth discuss your idea with different experts. By practicing your pitch and listening to pitches of others, you gain more knowledge on specific values you offer. By being very clear about your values and how you differentiate yourself, you can more convincingly target the end-user. Also, the Smart Ageing Prize provided me with many business-related insights both from learning from peers in a group setting as from the business coach 1:1 meeting. – Walk it!
It's important to refocus to the business side of the product. However, it would be even more meaningful if we could improve our network in the healthcare scene through AAL. – Sync VR
We think that it is important, because it validates our product. To say that an independent Jury think that we have a good and innovative product/ concept is very worthy for our sales in the market, which is the European. – Life Manager
Participation in the Smart Ageing Prize is integral to the commercialisation of our product. So far, taking part has given us the time, motivation and coaching to dig deep into the business planning for Refresh. We would love to win the prize as it would speed up our progress exponentially and get Refresh into the hands of more people sooner, taking our commercial planning and turning it into a commercial reality. – Refresh by How Do I?
What is the uniqueness of your solution compared to those already available on the market?
There are many health tracking apps on the market, but this walking app is specifically tailored towards older adults and their specific interests. Simplifying to the core has been the main area of interest: what is absolutely needed and what information can be left out to make the screen less cluttered. In addition, the why was identified: recording nice walks both in the neighborhood as well as city trips, enabling the user to have an overview of their physical activity level and get inspired by more beautiful walks to make. – Walk it!
Every other VR business is creating isolated experience. No one is focusing on shared experiences in VR. That's what makes us both strong and unique. – Sync VR
I think that a uniqueness is our scalabilty of our product. We can easily adapt our product between nursing homes, home care and in the field of psychiatry. So if larger organizations works in different areas, they can get One solution and do not have to by several Applications to manage the different areas. Also that we have developed the product on our own, and have great competences in sales, implementation and developing solutions and app, gives us the possibility to work very agile with our customers/ clients. An USP is also that our product can be adapted to each person, depending on the level of cognivity.  We can be so detailed that we can administrate every function and button. It allows to meet the user where the person is. – Life Manager
Support for step-by-step life skill task completion is nearly always done by prompting from one person to another. Person to person learning is not the best approach for those with memory difficulties who want to maintain the dignity of independent living for as long as possible. Additionally, professionals in the field have identified a problem with reminiscence resources – they tend to lack cultural relevance for large swathes of the population. Our users are also able use the app as a personalised reminiscence resource, linking video or audio content from their own lived experience to any object – like a calendar, musical instrument or photo – bringing it life and adding an additional dimension of sensory feedback to their experience in a completely personalised, culturally-relevant way. – Refresh by How Do I?