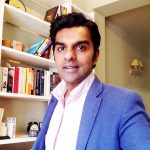 The Smart Ageing Prize is offering €50,000 for products and services that use innovative digital technologies to support older adults to participate fully in social life.
Dr Shabs Rajasekharan is a consultant for Smarter Futures EESV, supporting entrepreneurial teams to create new markets. He is one of the eight judges for the Smart Ageing Prize, run by the AAL Programme and supported by Nesta's Challenge Prize Centre.
With four weeks to go to the deadline, we spoke to Shabs to find out what he will be looking for from applications to the challenge.